Volume 21 Issue 2 2004
Galaxie Gazette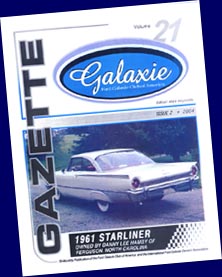 In This
    Volume 21 Issue 2 2004    
Issue:
---
Bye Bye Standard Memberships
From the Drivers Seat
---
Package Shelf Restoration
by Stewart Heubi
---
From The Dock of Dad's Boat-Thumper Part IV
By Ted McMurray
---
8th Annual Ford Galaxie Club National
by Galaxieland South East
---
Resto-Tips
My driver's door window has come loose...
By Greg Donahue
---
Product Review
by Mark Reynolds
---
Members' Galaxie Showcase
1968 Ford Galaxie 4 Door lTD owned by Tim McCullough of Cleveland, Ohio
1963 Galaxie 2 Door Sedan owned by Mr. & Mrs. Kenneth Kerchner of Mendota, Illinois
---
Member Profile of the 1961 Starliner
owned by Danny Lee Hamby, of Ferguson, North Carolina
---
Members' Galaxie Showcase
1967 Ford Galaxie 500 owned by Ron & Sandy Looney of Bullhead City, Arizona
---
Common Abbreviations
by Mark Reynolds

Go Back to where you were!
---
This site built by Mark Reynolds using FlexED. Let's build YOU a homepage.