Volume 23 Issue 3 2006
Galaxie Gazette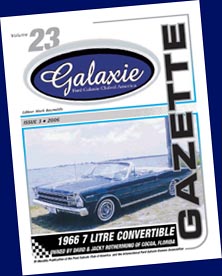 The Latest Issue of Our
44 page magazine!
In This
    Volume 23 Issue 3 2006    
Issue:
---
I Could Use A Little Help!
From the Drivers Seat
---
Rambling On
OOOPPPSS!
By Ted McMurray
---
Knocks, Smoke and Shakes are Troubleshooting Aids
By Tom Brownell
---
Theft Prevention
By Mark Reynolds
---
100 Resto-Tips
11-20
By Greg Donahue
---
Members' Galaxie Showcase
1969 XL Sportroof owned by Troy Davenport of Douglasville, Georgia
---
Members' Galaxie Showcase
1966 Galaxie 500 owned by Frank & Skeeter Lewis of Lovelock, Nevada
---
Member Profile of the 1966 Seven Litre Convertible
owned by David & Jackie Rothermund of Cocoa, Florida
---
S.E.M.A.
Action Network
---
Past Issue Archives
Adobe Acrobat Files of Past Issues
Available in Members Only Section
---
Go Back to where you were!
---
This site built by Mark Reynolds using FlexED. Let's build YOU a homepage.