Volume 23 Issue 4 2006
Galaxie Gazette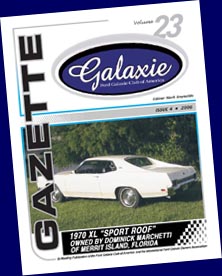 The Latest Issue of Our
44 page magazine!
In This
    Volume 23 Issue 4 2006    
Issue:
---
Did you ever notice how long restorations take?
From the Drivers Seat
---
If It's June...This Must Be Carlisle
By Gary Posch
---
Fuel - Part I
By Paul Hobbs
---
1967 Brake Linne Replacement
By Tom Dillon
---
100 Resto-Tips
21-30 + Wax & Polish Primer
By Greg Donahue
---
Members' Galaxie Showcase
1965 LTD owned by Rick Wilson of Milford, New Hampshire
---
Members' Galaxie Showcase
1967 Galaxie 500 owned by Doug Law of Sidney, Nebraska
---
Member Profile of the 1970 XL "Sport Roof"
owned by Dominick Marchetti of Merrit Island, Florida
---
S.E.M.A.
Action Network
---
Past Issue Archives
Adobe Acrobat Files of Past Issues
Available in Members Only Section
---
Go Back to where you were!
---
This site built by Mark Reynolds using FlexED. Let's build YOU a homepage.