Volume 24 Issue 2 2007
Galaxie Gazette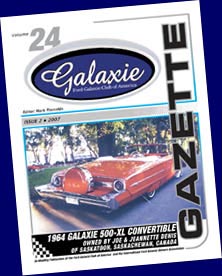 In This
    Volume 24 Issue 2 2007    
Issue:
---
It's Been Four Years Since A Dues Increase...
From the Drivers Seat
---
April Fools Day
By Ted McMurray
---
The Carburetor - Part 3
By Paul Hobbs
---
Power Adders
Ted McMurray
---
100 Resto-Tips
68-81
By Greg Donahue
---
Member Profile of the 1964 Galaxie 500-XL Convertible
owned by Joe & Jeannette Denis of Saskastoon, Saskatchewan, Canada
---
Ford's Mid Year Galaxie Was A Hit
By Phil Skinner
---
S.E.M.A.
Action Network
---
Past Issue Archives
Adobe Acrobat Files of Past Issues
Available in Members Only Section
---
Go Back to where you were!
---
This site built by Mark Reynolds using FlexED. Let's build YOU a homepage.