Volume 24 Issue 3 2007
Galaxie Gazette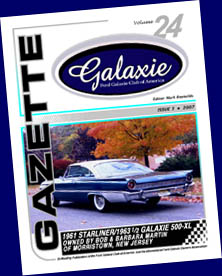 In This
    Volume 24 Issue 3 2007    
Issue:
---
2008 Nationals in Branson, Missouri
From the Drivers Seat
---
Galaxie:
From Wikipedia.com
---
100 Resto-Tips
82-97
By Greg Donahue
---
Member Profile of the 1961 Starliner and the 1963½ Galaxie 500-XL
owned by Bob and Barbara Martin of Morristown, New Jersey
---
Member Profile of the 1966 Galaxie 4 Door Hardtop "428"
owned by Jerry DelValle of Portland, Oregon
---
S.E.M.A.
Action Network
---
   Past Issue Archives   


Adobe Acrobat Files of Past Issues
Available in Members Only Section
---
Go Back to where you were!
---
This site built by Mark Reynolds using FlexED. Let's build YOU a homepage.