Volume 24 Issue 4 2007
Galaxie Gazette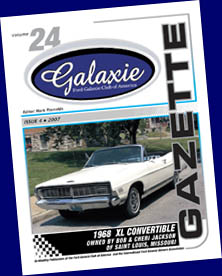 In This
    Volume 24 Issue 4 2007    
Issue:
---
You NEED This CD!
From the Drivers Seat
---
A Bouncing Baby 1959 Country Sedan
By Andy Holoubek
---
Subject: Motor Oil, "New" and "Improved"
By Dennis Vieira
---
100 Resto-Tips
97-108
By Greg Donahue
---
Member Profile of the 1968 XL Convertible
owned by Bob and Cheri Jackson of Saint Louis, Missouri
---
Member Profile of the 1964 Galaxie 500-XL
owned by John Lund of Seattle, Washington
---
Who Wants To Inverview
FRED LORENZEN?
---
S.E.M.A.
Action Network
---
   Past Issue Archives   


Adobe Acrobat Files of Past Issues
Available in Members Only Section
---
Go Back to where you were!
---
This site built by Mark Reynolds using FlexED. Let's build YOU a homepage.