Volume 25 Issue 3 2008
Galaxie Gazette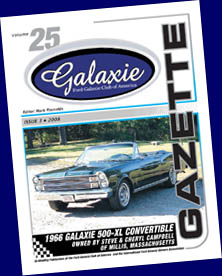 In This
    Volume 25 Issue 3 2008    
Issue:
---
Come And Help Make the Nationals A Sucess!
From the Drivers Seat
---
1963 Ford Galaxie Production
From Greg Donahue
---
Getting Back The Enthusiasm
By Mark Reynolds
---
Company Report - Cooper Tires
by Mark Reynolds
---
New Reproducton - from Mort Burton - 1962 Rear Trim Panel Set
By Mark Reynolds
---
Resurrection of the Dormant -1963 Galaxie 4 Door Sedan
By Jason Shafer
---
Ford's ALL GLASS Galaxie
By Charles Morris
---
We Have A Problem - Not Enough Drives!
By Ginnie Wagner
---
Resto-Tips
I am having a problem with the power brakes...
By Greg Donahue
---
2008 Galaxie Nationals
Registration Forms
---
Member Profile: 1966 Galaxie 500-XL Convertible
owned by Steve & Cheryl Campbell
---
S.E.M.A.
Action Network
---
   Past Issue Archives   


Adobe Acrobat Files of Past Issues
Available in Members Only Section
---
Go Back to where you were!
---
This site built by Mark Reynolds using FlexED. Let's build YOU a homepage.