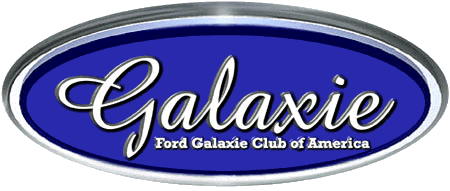 "Letters to the Editor"
From S.E.M.A.
This "MUST"be read by anyone concerned about the hobby of Car Collecting.
How Government Regulations Threaten Automotive Hobbies...and what you can do about it.

From Dennis Lempicki
About 4-5 years ago I ordered some material to redo an interior for a 1960 Starliner from S.M. S. Interiors. The material came and I wasn't happy with it and sent it back for a refund. Unfortunately it never came and a couple of years ago I gave up on seeing my money.
Now for "The Rest of the Story". Mark Reynolds, President of the Ford Galaxie Club of America heard of my dilemma. Mark took the initiative to contact S.M. S. Interiors and tell them of my disappointing experience. He then contacted me and said S.M.S. would be contacting me. "Yeah Sure" I thought. Well miracles do happen, Doug from S.M. S. E-mailed me and asked for an explanation of what happened 4-5 years ago. I told him what happened and he agreed to refund my $225.00 in full to clear the air. I was thrilled and asked him to instead send me a letter giving me a $225.00 credit to use for future purchases instead of the cash. Recently the letter arrived issuing a $225.00 credit. SMS didn't have to do this but choose to do it based solely on my word. This would have never been possible without President Mark Reynolds input. IT PAYS TO BE A MEMBER OF THE F.G.C.o.A. It paid so well that I have decided to be come a Life Member.
Thanks again to Mark and the F.G.C.o.A. Special thanks you to Doug at SMS Interior for being an honest and fair business person.
Dennis S. Lempicki, galaxi@execpc.com
From Mitch Mendler
Mark,
I thought I'd write you and let you know how pleased I am to be a member of the Galaxie Club of America.
I purchased a 1963 Galaxie 500 XL that I had come across over 4 years ago. The former owner finally decided to sell it and at that time, I also had the money. He had performed the basic repairs and had new interior and a new top installed. I was in desperate need of parts and through the club and other members, I was not only able to find the misc. parts I needed, but also sound advice. Some of the items were not available anywhere and I was running out of leads when you sent me the "sample" news-letter and application. I found helpful honest members and reliable business owners that were easily accessible. Well, I'm almost finished now with the basic restoration and will start on some of the more extensive work like a new engine. But, for now at least I have all the difficult small parts.
Mitch Mendler
PS: anyone have the front header bar retainer for the convertible top...? EMAIL if you do!
From Dennis Ponder
...special thanks to member Gregg Prokop in Kirkland, WA who sold me a radiator support that was exactly as described. I had bought another (sight unseen) from a salvage yard in Kansas city that was actually in worse shape than the original.
I would strongly suggest that members use the club to find those missing parts that are driving them crazy.
When I finish my project, I plan on listing all the excess parts that I have accumulated in the newsletter for free to members that can use them to finish their projects.
Sincerely,
Dennis R. Ponder
From Bruce Doss
Hi Mark,
Thanks for the effort you're making to keep the club going.
I'm 54, father of 3 boys & 1 girl, Grandfather of 3 boys and 2 girls and husband to Nancy-
I purchased my first new car in April of 1960. It was a Black Starliner, Red interior, 300 Horse 352 with manual transmission. Following my father's example I had to have a new car every year so I traded the Starliner for a black Falcon Futura. My father talked about the mistake all his life, I wish he had lived to see the Black Starliner I purchased March 25th 1996. He would have been pleased.
My brother, James, spotted the '60 while on vacation, knew I had been wanting one for at least 15 years, so when he returned home we contacted the owner and purchased my 'Dream Car'. I am in the process of restoring it for "Show & Go". I plan to build the car back as a 360 except it will have an automatic. I'm not trying to fool anyone or misrepresent the car which currently has the 352/2V.
I had the car bead blasted and discovered there was no damage to the body and just minor rust behind the rear wheel well. The challenge now is to get the panels straight. Even in the 60's the cars were not very straight.
On June 27th this year, I purchased a Red 61 Starliner 375HP which I use as a daily driver. It's a very nice/clean car that I'm restoring one panel at a time.
Being a 2 Starliner family is like a dream for me since these cars remind me of my teens and carefree years-
I would like to correspond with any Ford/car owner.
Again thanks for all the hard work and if theres something I can do for club in North Carolina just call.

Bruce Doss
5402 Beaver Creek Ct.
Greensboro, NC 27406
Home-910-674-3328
Office-910-545-0011

I am in the process of putting both these cars in "showroom" condition, and I need seatcovers & Door panels for the 60. I've purchased many NOS parts and am interested in any literature or parts for both cars. Anyone needing 60/61 parts, I'll be happy to help if I've got the part as a trade, to sell or free. I'm not in the parts business, and would just be happy to help a car lover enjoy their hobby.
From Saul Rivkin
Dear Members,
Last night I attended a cruise night at Eastwood Company in Malvern Pennsylvania. There were a lot of nice restored cars and street rods in attendance. I met two very nice men there, also fellow Galaxie enthusiasts. After talking a while, we decided that if there was enough interest we would start a local chapter of the Ford Galaxie Club. If anyone within a reasonable distance of, lets say Valley-Forge Pennsylvania is interested please drop me a line. This could include from Reading to Phily, down to Dover Delaware and over to York Pennsylvania. How about the Valley Forge Chapter or South East Pennsylvania chapter?
I can probably think of at least 6 people that would be interested, so let me know!
You can e:mail Saul HERE
From Gene & Francie Evans
Dear Mark:
Thank you so much for your letter and the packet of material you sent us, we will put it to good use in recruiting new members for the Club... ... The Club helped us so much while we were restoring our 1965 Ford Galaxie 500 XL. We couldn't have done such a nice job without other members helping us. We took second place in our class at Carlisle. When we got to Carlisle on Saturday morning, it took us all morning to get the car cleaned up. We had so many people to talk to about Galaxies and the Club. Of course they liked our car, too...
Thanks from two Galaxie Lovers;
Gene and Francie Evans #1206

Send E-Mail

Phone # 870-743-9757
Brief Disclaimer © Copyright notice

This site was built by Mark Reynolds using FlexED. Let me build YOU a homepage.