Kevin Yeager's
1972 LTD Convertible
---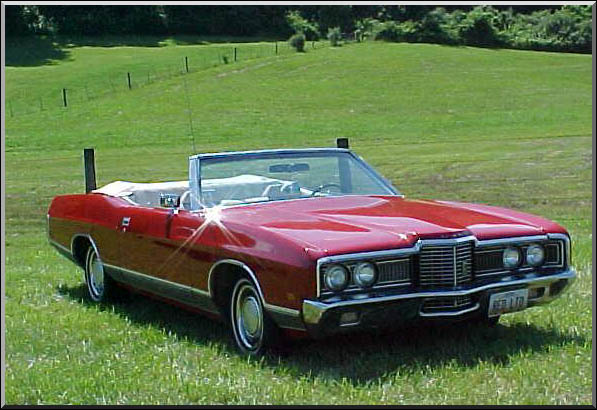 This is my 1972 LTD Convertible, my first big Ford since I owned a 1974 Mercury Montego station wagon when I was in college. The engine is a 351W with auto transmission and A/C, no major options. I was fortunate to pick up this car at a local estate auction last August for $3,400. The car belonged to the estate of the original owner who was a Gulf Service station owner/operator here in Gallipolis, OH. When purchased, it had 127,000 miles on it. The owner's family told me that this was 1 of 20 identical cars purchased by Gulf and given away as customer service rewards to dealers in 1972. I am presently trying to document this history via Gulf archives, but have been unsuccessful to date.
The car had been in storage for at least the last 10 years. I cleaned it up and waxed it (although she needs a painted), then I replaced all the items that normally deteriorate during storage (tires, battery, belts, hoses, etc.), given her a good tune up, added dual exhaust and flowmasters, and added a Custom Autosound stereo/CD player. I have driven her for 3,000 trouble-free miles to date. While she is not my daily driver, I do drive her as much as possible.
Thanks to all the members who have helped me with this project. This Club and its Members are an invaluable resource!
Kevin Yeager