Dave Phelan's
1959 Fairlane 500 Galaxie Town Sedan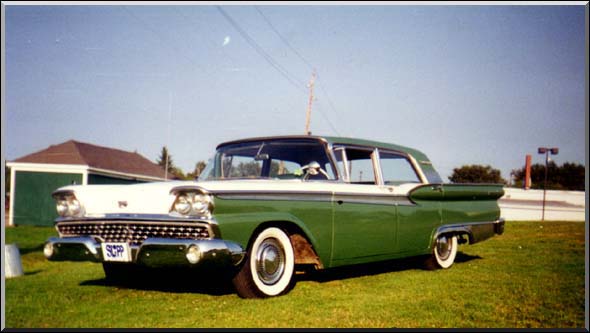 Hi Mark,
...It took me a while to realize that the section in the "Galaxie Gazette" that said "to you" actually was written "to me."
My first Galaxie is a 1965 4 door sedan that was purchased new by my parents in 1965. It was our only car until 1972 and was driven every day, year round. Life in Maine was not easy on it as the winters are long and cold with a lot of snow and salt on the roads. The salt took its toll on the car's frame and I have had to have both the front and rear repaired. The car was given to me in 1975 when I got my driver's license. By then there were two other cars in the family so the Galaxie was passed down to me.
By 1982 I was able to have the 289 rebuilt. The odometer had passed 100,000 miles by the late 1970's. I also had the body redone and had the car repainted in the original dark ivy green metallic. The interior is the original light ivy gold vinyl and dark green carpeting. Both should be replaced.
The car doesn't have too many options. Aside from the 289 V8 and Cruise-O-Matic, it has an AM radio, backup lights, whitewall tires (still bias belted), wheel covers, light group, padded dash and visors and a left outside mirror.
This car has much sentimental value. I was in the first grade when we brought it home. I remember very vividly going to the Ford dealership in Madawaska, Maine (about 50 miles from home) to get it. I'm glad my parents took good care of it. By the early 1970's, I desperately wanted them to trade it for a new car but by the time I started driving, I wanted the car for myself.
My second Galaxie is the 1959 Town Sedan you can see in the picture. It is like the one my parents had before the 1965. I bought it in 1988. It was originally from Pennsylvania. It was straight but rusty and the 100,000+ mile engine was seized due to a broken oil pump. The interior was good except for the carpet and dash pad, so I bought the car and had new body panels welded in. The car was Sherwood Green, about the shade of grass. That was a lot of green so I had the car painted in Sherwood Green and Colonial White styletone. The white in the middle really improved the apearance of the car.
This car has only a few options, also. It has the 332 V8, Radio, Magic Air hearter, Wide White walls, style wheel covers, and backup lights. It originally had the Ford-O-Matic transmission but that was replaced with a 3-speed manual before I bought the car. I had the original transmission rebuilt but have not yet installed it.
The car is far from finished but gets quite a lot of attention because there aren't that many old cars around here and even fewer old Galaxies. I could probably count all the Galaxies in this area on both hands. They certainly were very popular when new but the Maine winters have eliminated most of them.
Thanks for taking over the club. I know it involves a lot of work. I would love to hear from other Galaxie owners, especially of 1959's and 1965's, but also any other years. I have quite a large literature collection, so if I can help anybody with a question about their car, please let me know.
Best Regards
Dave Phelan
22 Judd St.
Presque Isle, ME 04769-2302
207-764-6643

First - Previous - Next - Last

Return to 1959 Contents

Ford Galaxie Club of America/galaxieclub@collector.org
---
This site built by Mark Reynolds using FlexED. Let's build YOU a homepage.