Jeff Yeager's 1959 Galaxie/Fairlane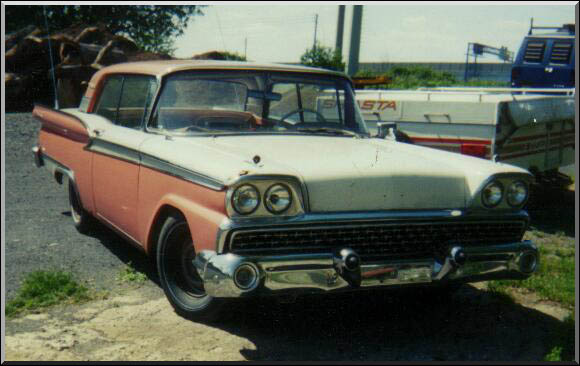 Hello, I'm taking this opportunity to write. I know it is up to us members to get other Galaxie owners aware of our organization. I have talked to several owners about the club and the benefits of membership. I show them current news letters, showing them and letting them see what they get. I could use business cards or applications to hand out.
My car is a 1959 two door and was originally purchased by my father in 1966 for $300.00. The car has been in a barn since 1971, parked for the only reason of needing balljoints, other than that, nearly mint. Today the motor is out for a rebuild. It's a 352. I hope to get it running this season and make it to a car cruise, but it will still need some other work to get it road worthy. The car still has its original paint, white on Geranium. Along with the 352 engine it is equipped with a three speed overdrive transmission. Optional equipment includes bumper guards, stainless fender skirts, and the rare sunburst hubcaps. Also the car has dual rear deck antennae, something I haven't seen on any other car of that year. Take note in the picture. If anyone kows anything about this setup, please let me know. It's been a mystery. There is nothing in the 1959 sales literature.
I would like to see meets like most clubs hold. I realize we are not as large as some groups and we are spread throughout the country, but regional rallies I think could bennefit us as a whole. If each region would have one such event, it would be more than we have. I think the Ford Nationals in Carlisle PA would be a good choice for the eastern area. The show is held in early June and athe fairgrounds are located near several highways. I was there for this past show, (June 9-11) and several clubs were there including the Retractable Hardtops and the 7-Liter Club. The Galaxie Club's presence there would be the icing on the cake.
The idea of hats and t-shirts is a great idea, count me in if they are made up.
Good-bye for now
Jeff Yeager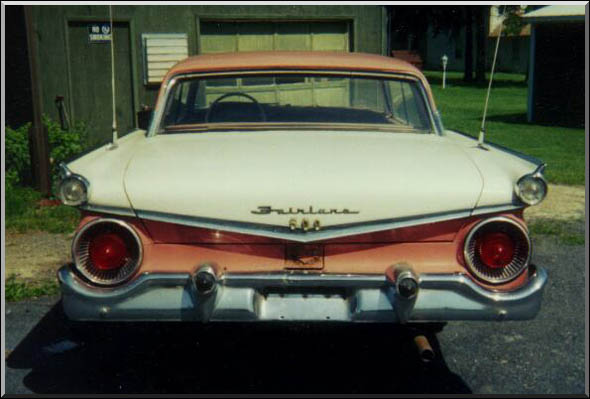 First - Previous - Next - Last

Return to 1959 Contents

Ford Galaxie Club of America/galaxieclub@collector.org

Go Back to the International Car Show

---
This site built by Mark Reynolds using FlexED. Let's build YOU a homepage.