Dr. Don Martin's
1963½ Galaxies
My love for big Fords began at age 10, when my parents purchased a beautiful, new 1959 geranium (salmon) and white four dor Galaxie from the local Ford dealer. It came with a 292, three speed and overdrive, and it was the prettiest car in town. My older brother and I wanted dad to order the 352 interceptor, but no such luck. Dad's formula was: teenagers + horsepower = trouble. Seven years later I inherited the car, and with little work (4 barrel and 4:11's) I could run with the 283 - 327 Bel Aires and Impalas my Chevy loving friends had. One of the greatest experiences I had with my '59 was out running my friends '62-327 Impala.
I grew up in the rural San Luis Valley of Southern Colorado, in the small town of La Jara. Street racing was big and the Ford vs. Chevy rivalry was heated. Having the hottest car around gave you (and the car) great status. My older brother was widely known as the hot rodder. He had a '50 Ford with a Mercury flathead and two-two barrel Strombergs that we were always tinkering with. A few years later he fell in love wiht '55 Chevy's and has been there ever since.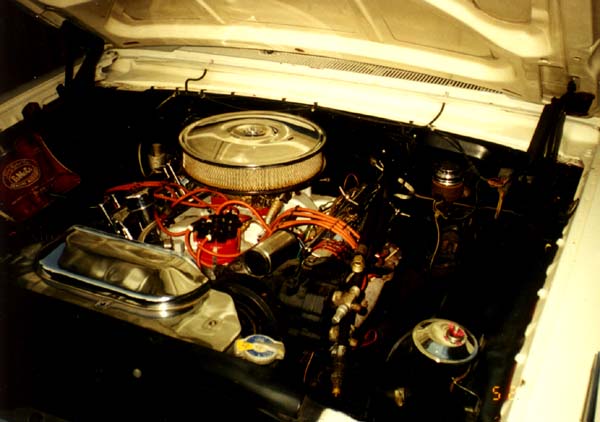 During those early years ther were two cars I really wanted, a '57 Fairlane 500 2 door hard top, and/or a '63 Galaxie 500 XL with a 427 - 4 speed. The ultimate would have been a '57 with the 427! Eighteen years later I spotted my '57 Fairlane 500 2 door hardtop sitting in a field behind a house in Colorado. An hour later I was $75.00 poorer and one '57 richer. The car had no drive train or interior, but the body was good, and my project began.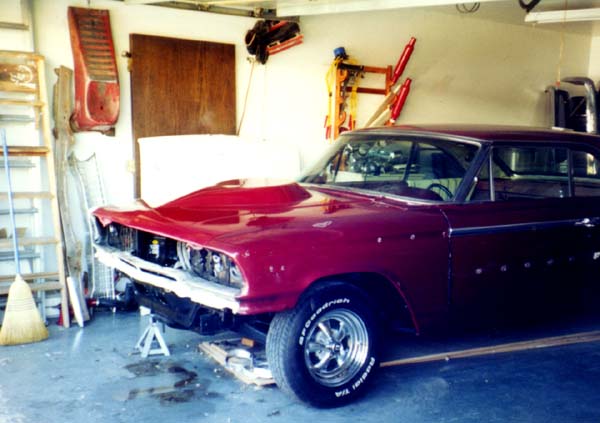 In 1977 I moved my family to Idaho and became involved with the car nuts around Idaho Falls. A friend of gave me a tip about a 427 sitting on the floor in a garage in the country. A phone call, some arm twisting and $400 later, and I had my 427 with a T-10 four speed that came out of a '63 Galaxie 500 XL! A visit to the local junkyard netted me a white interior from a '64 Galaxie 500 XL. A cousin and I painted it Candy Apple Red with a desert scene on the side, and I put in a Detroit Locker with 5:14 gears in the rear, and found a top loader with a Hurst shifter attached to it. It just so happened that the machine shop for the drag racing team of Jim Waldo and Alden Miller (NHRA record holders) who raced 427 and 428 Fords in '67 Fairlanes and '69 Mustangs was located in Idaho Falls. Alden built my 427 with 13.5 TRW pistons, a .623 lift cam, and a 428 CJ crank. I added Hooker headers and dual 750 Holleys on top of the stock 427 intake and heads.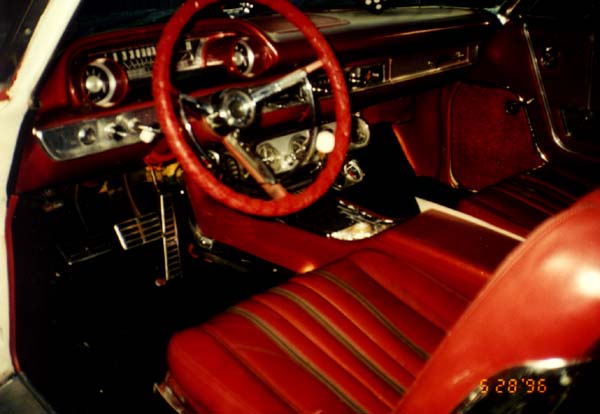 In 1984 we moved again, this time to the suburbs of Salt Lake City. My oldest son was very interested n the '57, and joined me in the hobby. He was and is a terrific Elvis impersonator, and couldn't wait to drive the '57! I now saw my dad's formula from the other side. So, we started searching for something a little milder for him. We were amazed when we located two '63 Galaxie 500/XL's for sale by the same guy! One was a 390 - 4 speed, and the other one was a rolling chassis. The 390 car had a perfect chestnut interior. The other car was rangoon red, and had the best body I had ever seen on an old Ford. We decided that with contributions from two parts cars we located, that we could make two 63's, one for each of us.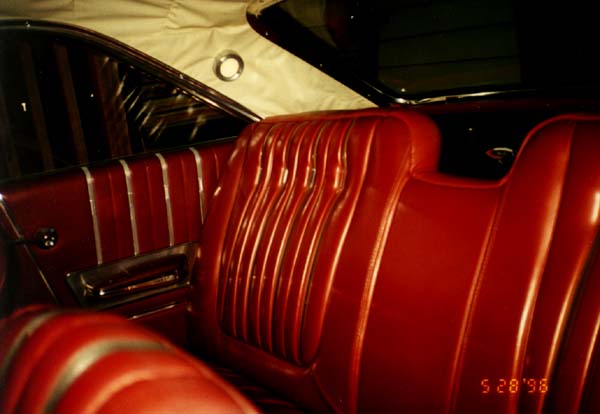 For my son's car we purchased a 427 block from Stasburg Racing in Lindon, Utah, and installed the stock pistons and crank from my original 427, with 406 heads. My brother found a stock dual four barrel manifold ('63) sitting on the ground in a Colorado junk yard, and we bolted on the stock 652 cfm carbs. For the "perfect" Galaxie, we installed the "perfect" interior, painted it wimbleton white and lucked into another 427, this one with a single four barrel.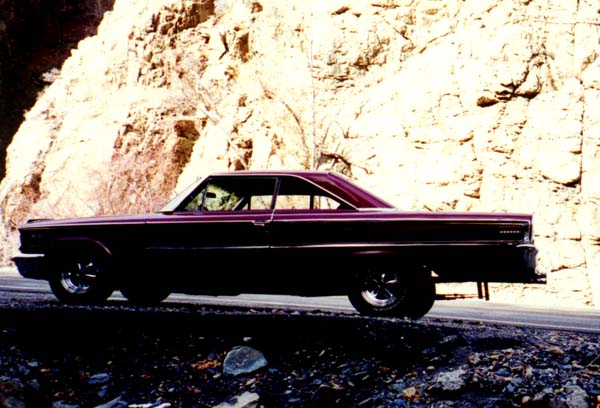 Along the way, we latched onto a '64 f-100 4 x 4 (we put a 428 CJ in it), a '55 Fairlane 4 door with a 223 six cyliner and a Ford-o-matic (soon to be a Y block), a '56 Fairlane 4 dor 292 Ford-o-matic, a beautiful black '64 Falcon Sprint with a hi-po 289 & a top loader (we've added some secret goodies), a '64 Fairlane 2 door post, another '57 Fairlane 500 2 door hardtop, and a '64 Falcom Futura Convertilbe. The Sprint is a real Chevy killer, and we've untied a lot of small and big block bow ties with it. If we ever find a Chevy that beats it, we'll simply move up to the red Galaxie or on to the '57. We have gone through several other old Fords, but these are the ones we've kept. We will soon part with the convertible.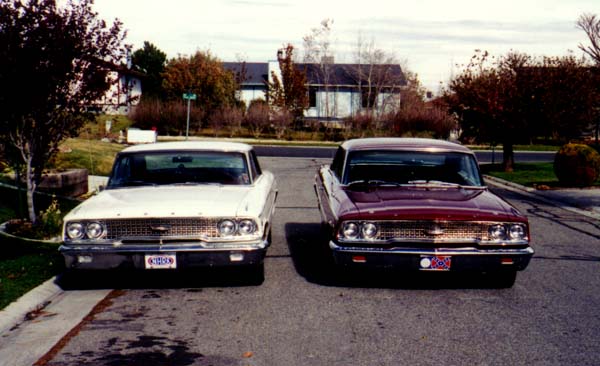 Each of my kids (five of them) has his/her eye on one of the old Fords, and I'll probably reserve the one they want for them. My wife tolerates all of this well, though she isn't really into it. So, I've always kept a daily driver or two around for her, currently two Grand Marquee Merc's and a Ford van.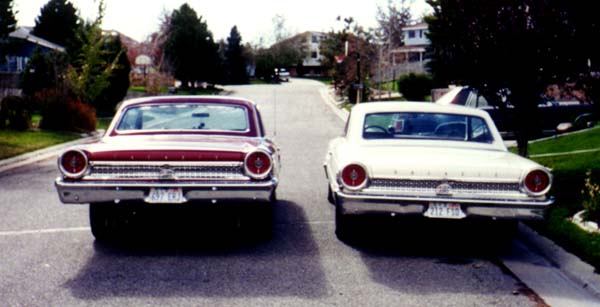 We are really excited to find the Galaxie Club. It verifies that others have the same disease, though perhaps in a milder form. It may seem odd that a psycholgist is into this hobby, but it feels great to me! The potential for information sharing, parts location, performance tips, and new friends through the club is great, and we hope it grows bigger and bigger. Thanks for all of the good work!
James Donald Martin, Ph. D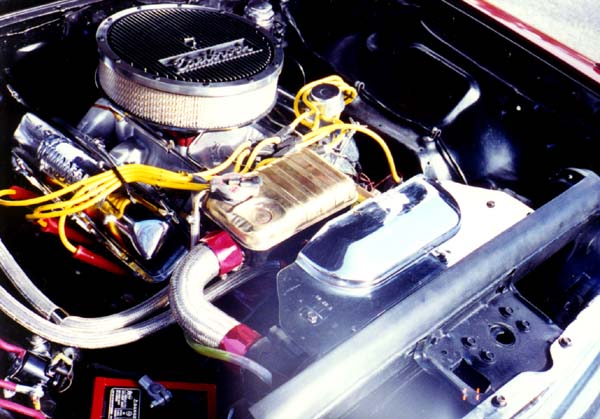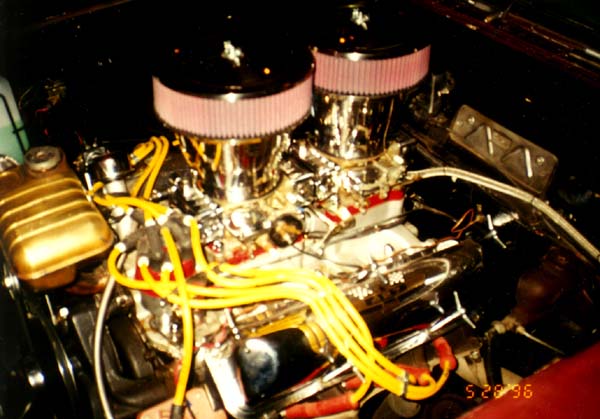 Go Back to where you were!
---
This site built by Mark Reynolds using FlexED. Let's build YOU a homepage.