Mike, Chris and Sally Brown's
Galaxie Collection
Hello, Galaxie Club Members,
My name is Mike Brown, I am 48 years old and my wifes name is Sarah, also known as Sally and we have one son named Christopher, age 22.
About 6 years ago, our son spotted a 68 Galaxie XL Fastback at a cruise-in. Well, he bought it and Chris and I worked on that 68 to get her ready for the next season. She has a 390 engine with auto trans. We went to a lot of car shows, cruise-ins, and swap meets. This was the first of our families Galaxies.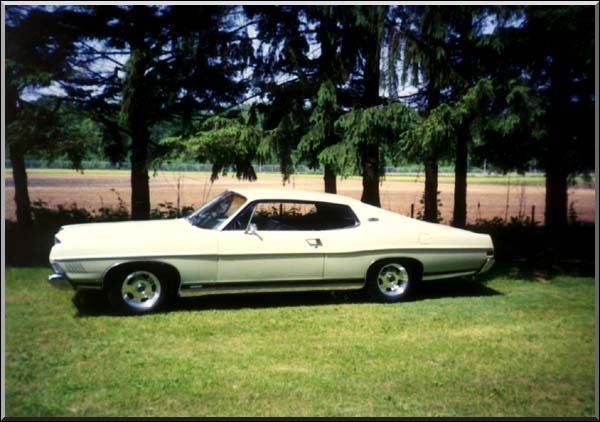 IT was 3 years later when my brother and I went to Pennsylvania to look at some cars. We came back with a 64 Galaxie 500/XL Fastback, rangoon red with red interior, and a 390 4 speed. All original with 47,000 miles on the odometer. That was my gal! The next weekend we went back. My brother came home with two 62 Galaxies, one XL convertible and a parts car. The parts car turned out to be a keeper. Since then he's aquired two more 62 Galaxies, one 56 T-Bird, and a 56 Fairlane. He also owns a 74 T-Bird which he bought new.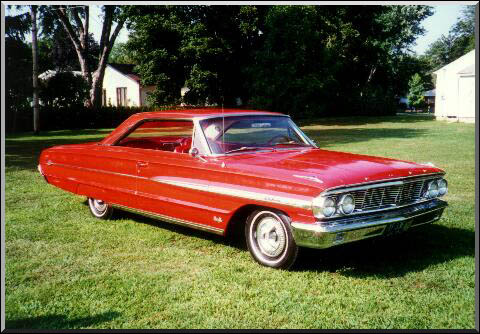 About a year later Sally and I bought a 69 Galaxie XL fastback, 390 with auto transmission, white with blue interior, bucket seats and console. Its near a #3 car, and waiting its turn for restoration. Last year we bought a 73 Lincoln Continental 2 door coupe which is our everyday car.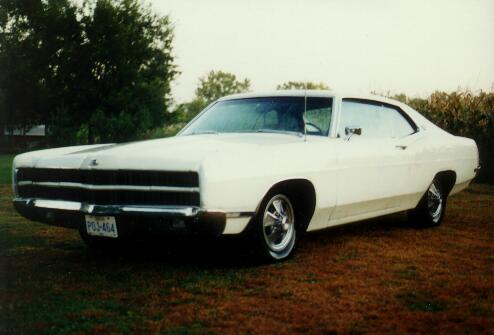 I have rebuilt a 390 engine for the 64 and put it in the car a couple of months ago. The original engine has broken rings. Eventually I am going to rebuild it and put it back in the car. I almost forgot, when I bought the 64 there was a nice little extra in the trunk, a 3 x 2 carb set up! I'll put the 3 x 2's on when I put the original engine back in. At this point she's a #3 car, looks good but needs a paint job, some rechroming and a little interior work.
As you'll be able to tell I'm pretty proud to have a son like Chris. He has loved cars since the day he was born. He went to an art college in Columbus, Ohio for three years. The did not offer any transportation art so he changed colleges.
Over a year ago, Hot Rod Magazine, had its first Power Tour from Peterson Automotive Museum in Los Angeles, California to Norwalk Dragway in Norwalk, Ohio. While at the Power Tour Show, we met Troy Trepanier, a well known custom car builder. Chris asked Troy if he had any suggestions as to how to pursue his ambition of becoming a hot rod and custom car designer. Troy made arrangements for Chris to call Chip Foose, the hot rod designer for Boyd Coddington. Boyd is the nationally famous hot rod builder and owner of Boyds Wheels Inc. of Stanton California. The next thing we knew Chris and I were on a plane to Los Angeles to meet Boyd and Chip. We also checked out the Art Center College of Design in Pasedena California. Chip highly recommended to Chris, if he was serious about becoming a street rod and custom car designer to go to this school. December 26th 1995, Chris and I drove a rental truck and trailer (for his 71 Galaxie) to California.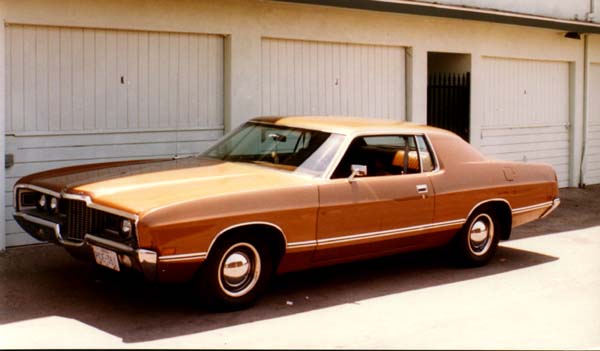 He is now out there on his own. He's working in Boyd's Wheel shop while going to night school. The art school accepts 30o students per year for transportation art. Chris has been accepted full time! Hopefully he will get to start next summer trimester. He's on a waiting list now. He will have approximately two years, eight months of schooling. Chris hopes to design hot rods and custom cars for Boyd or someone in that field. As most parents do, we are hoping for the best for him. By the way, his 68 Galaxie is here at home with us.
I talked to my son about the need for a club logo and asked him if he thought he could design a logo. He said he would see what he could do but said he's really busy. He works 40 hyours a week and goes to night school. So this is not a promise but a possibility.
We are very interested in club shirts. We would definetly order two. Also we are interested in a club members car calendar, and would want three of these.
Mark, we are very impressed with the job you are doing and send our personal, Thank You!
The idea of a Galaxie magazine is great. We hope to see it on the news stand on day. If you have any information that we could hand out to Galaxie owners in our area, to interest them in joining the club please let us know.
We also wanted to send a special thank you to Bill and Pat for getting such a cool club on its wheels. They did a great job.
Well I think I've rambled on long enough. We have enclosed pictures also.
Happy Travels
Mike and Sally Brown
Go Back to where you were!
---
This site built by Mark Reynolds using FlexED. Let's build YOU a homepage.