Member Profile: Russ Owens
1965 Ford



Convertible
as seen in
Franklin, Wisconsin
---
The story of this car, and its predecessor, goes back to April, 1966, when I got out of the US NAVY, after a tour of the ever lovely Tonkin Gulf.
I had seen new car brochures of the 66s, and fell in love with the 1966 Fairlane GT convertible. This picture can still be seen in the old literature. Its the picture of the red ragtop sitting on a black & white striped background. Had to have it! That is, until I got back home, and talked to my local dealer. Even at 1966 prices, it was pricey for me, and I wasn't impressed by the loose console on the brand new car. I ended up buying a demonstrator 1965 Galaxie 500 XL convertible, in Wimbledon white, with black bucket interior, and have been in Galaxies ever since.
(click on any picture for a full screen view.)
A year later, I damaged this car extensively, against a guard rail, and decided to change the color to 1966 Candyapple Red. I was married in this car in April 1967, but traded it for a 7 Litre hardtop in October of that year. I still have that 7 Litre, rust and all, but I always missed that '65 XL. A few years later, I found a twin of it, sitting on the roadside near my home, smashed in the front and rear, and looking really sad. I left  note, and the owner called me back. I bought it for $150 in the early 70s. I did a lot of mechanical and body replacement, and had a quick paint job put on. It looked OK for about 10 years, but eventually the years of salt took their toll, and the car was not driveable. In 1994, I made the decision to restore it, and contracted a local Mustang restorer, who was a long time friend. He agreed to the job, but said there wasn't much left to weld to, and it would be a major patch job. He recommended a body transplant, something he had done on about 25 Mustang convertibles in the past.  
He proposed cutting up the convertible, cutting off the roof of the 2 door hardtop, and transplanting the convertible guts into the rust free body. I had seen his work, and agreed. Couldn't hurt, right? 6 weeks later, I had a rust free convertible, ready for complete restoration. The whole process took 9 months, kind of like giving birth. I now have a totally restored convertible, with minimal welding, and maximum strength, using both the hardtop and convertible body mounts. No one believes it was a hardtop conversion, until I show the pictures. All VIN tags are correct, as is the door plate and title. The firewall with the VINs was part of the transplant. About 90 % of the body is the Texas hardtop donor, and 10% is the original ragtop. The interior is completely original vinyl, with new carpet 12 years ago. It has filled my wall and shelves with over 20 1st, 2nd & 3rds, at both local & national shows. I usually drive it everywhere, but have dollied it to Carlisle behind another '65, so I could bring 2 cars.  
I don't think I will ever sell it, but may see if it could end up in the Ford Museum in Dearborn. Wishful thinking maybe, but a fitting home, for a '65 XL convertible, saved from the crusher. And, it's '66 Candyapple Red; an exact duplicate of that first car I bought in 1966.
Russ Owens
GalaxieRus@AOL.com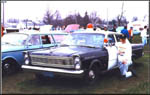 Go Back to where you were!
---
This site built by Mark Reynolds using FlexED. Let's build YOU a homepage.