January-February
Galaxie Gazette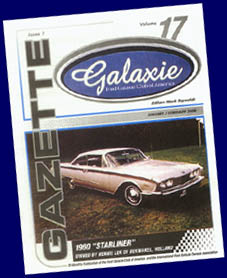 In This
January-February
Issue:
---
The International Ford Galaxie Owners Association
From the Drivers Seat
---
1960 Ford Identification
Feature article
---
1960 Wiring Diagrams
From Ford
---
Resto-Tips
My windshield washer pump wasn't working, so I purchased a new one...By Greg Donahue
---
Roadblock Justification
By James Baker - President National Motorist Association
---
Y2K Nationals
Information on the 5 day extravaganza for the
September 2000 Club Nationals
---
Remembering 1960
From sources on the World Wide Web
---
Total Production - 1960
421,977
---
The Little Ones
Phil Caldwell
---
Member Profile of the 1960 "Starliner"
owned by Member Hennie Lek of Dekwakel, Holland
---
Special Thanks
To member Nancy Brogden for the new cover design!

Go Back to where you were!
---
This site built by Mark Reynolds using FlexED. Let's build YOU a homepage.