January - February
Galaxie Gazette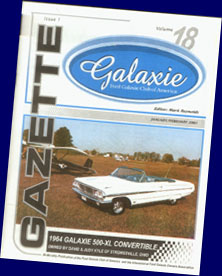 In This
January-February 2001
Issue:
---
2025 Magazines sent out!
From the Drivers Seat
---
The Great 3,040 Mile Parts Run
Part IV
by Greg Mc Vickers
---
In Memorium
of Dennis Lempicki
---
Resto-Tips
My '67 XL Galaxie has a steering wheel with about
25 cracks in it. I can't find a new one so
who would you recommend to repair it?
By Greg Donahue
---
The Little Ones - In Review of 2000
by Paul Maddams
---
Carpet Installation
by Tom Yanulaytis
---
Secrets of a Perfect Junkyard
by Charlie Barone
---
Remembering 1963
from the WWW
---
For Dad...
Member Profile of the 1964 Galaxie 500-XL
owned by Members Dave & Judy Kyle of Strongsville, Ohio U.S.A.

Go Back to where you were!
---
This site built by Mark Reynolds using FlexED. Let's build YOU a homepage.