January-February
Galaxie Gazette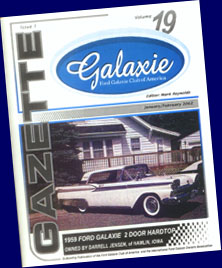 In This
January-February 2002
Issue:
---
Last (for a while) Arkansas based Galaxie National
From the Drivers Seat
---
Company Profile - Daniel Stern Lighting
by Mark Reynolds
---
Dear Ford Motor Company
by John Doe
---
Members' Galaxie Showcase
Chuck Ziska and Ed& Elaine Smith
---
Resto-Tips
I have a 1964 Galaxie 500 with a 427 engine. It is supposed...
By Greg Donahue
---
The Little Ones
by Paul Maddams
---
Lot's of Tech Tips!
by Club Members
---
Member Profile of the 1959 Ford Galaxie 500 2 Door Hardtop
owned by Member Darrell Jensen from Hamlin, Iowa, U.S.A.
---
Final Thoughts
by Mark Reynolds

Go Back to where you were!
---
This site built by Mark Reynolds using FlexED. Let's build YOU a homepage.