May-June 1999
Galaxie Gazette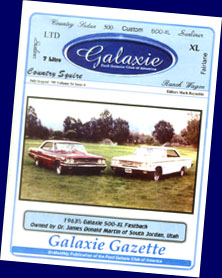 In This Issue:
---
Well here we are again...
From the Drivers Seat
---
The Little Ones
An AMT-Ertl Survey form to send in
---
Restoration Blues
By Arthur Hoyt III
---
Resto-Tips
Get Those Questions in to Greg Folks!...By Greg Donahue">
---
1973 Information
From Ken Sturm
---
385 Series 429-460
From http://www.wrljet.com/engines/big.html
---
Our Galaxie Club 3rd Nationals
In Branson-Forsyth Missouri 1999
---
7 Litre Information
continued from last issue
by John Smith, President of the 7 Litre Registry
---
Member Profile of the 1963½ Galaxie 500 XL Fastback
owned by Member Dr. James Donald Martin of South Jordan, Utah

Go Back to where you were!
---
This site built by Mark Reynolds using FlexED. Let's build YOU a homepage.