July - August
Galaxie Gazette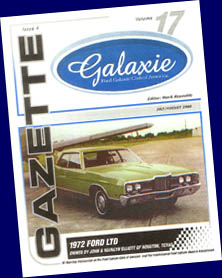 In This
July-August 2000
Issue:
---
Reminiscing
From the Drivers Seat
---
1965 & 1966 Ford's
by Joe Oros
---
The Great 3,040 Mile Parts Run
by Greg Mc Vickers
---
Ford Script
by David L. Lewis
---
Resto-Tips
My hood hinges are worn out on my 1962...By Greg Donahue
---
Engine Blue Printing
from Hastings Manufacturing Company
---
Repealing The 55 MPH Speedlimit
from the NMA
---
Beadblast or Sandblast?
Tech Article
---
Is The Chevy Smallblock V-8 Really A Ford?
From The Copley Service April 3rd 1981, by Andy Smith
---
The Little Ones 1964 Galaxie 500-XL RELEASED
by Phil Caldwell
---
Member Profile of the 1972 LTD
owned by Members John & Marilyn Elliott of Houston, Texas U.S.A.

Go Back to where you were!
---
This site built by Mark Reynolds using FlexED. Let's build YOU a homepage.