July - August
Galaxie Gazette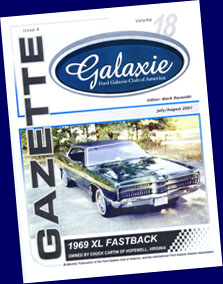 In This
July-August 2001
Issue:
---
Show Time!
From the Drivers Seat
---
Company Profile
Dearborn Classics
---
The Great 3,040 Mile Parts Run
by Greg McVickers
---
Resto-Tips
My 63 Galaxie did not come with 15" wheels on the car.
What width and offset should I be looking for on 15" wheels?
By Greg Donahue
---
The Day Our Galaxie Came Home
by Thomas Henzel
---
A case for the World Wide Web
by Mark Reynolds
---
The 390 Performance Years
by Alan Estergomy
---
Member Profile of the 1969 Galaxie XL Fastback
owned by Member Chuck Cartin of Hopewell, Virignia U.S.A.
---
Galaxie Repair and Restoration 101
by Kathy Reynolds

Go Back to where you were!
---
This site built by Mark Reynolds using FlexED. Let's build YOU a homepage.