July-August
Galaxie Gazette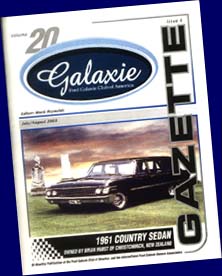 In This
    July-August 2003    
Issue:
---
Special 20 Year Issue
From the Drivers Seat
---
Hard Learned Lesson
by Earnest A. Schiro Jr.
---
From The Dock of Dad's Boat
By Ted McMurray
---
His Bright Red '64 Ford
by Ted Lingley
---
National Meet Winners!
---
Resto-Tips
I have had a lot of problems with the power steering system in my '63 Galaxie....
By Greg Donahue
---
Tech Tips
by the Members
---
Members' Galaxie Showcase
Howie & LeeAnn Petroff from Stuart, Florida
Terry Mize from Amarillo, Texas
---
Member Profile of the 1961 Ford Country Sedan
owned by Brian Hurst from Christ Church, New Zealand

Go Back to where you were!
---
This site built by Mark Reynolds using FlexED. Let's build YOU a homepage.