March-April 1999
Galaxie Gazette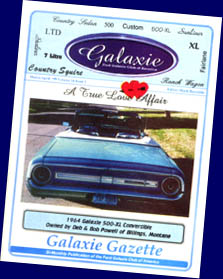 In This Issue:
---
If we want parts reproduced, let's participate!
From the Drivers Seat
---
Why We Drive Old Fords
By Awthor Unknowne
---
Resto-Tips
Why Did? Why Did? Why Did?...By Greg Donahue
---
Protect Yourself While Driving
From the Tin Lizzie
---
1971 Information
From Ken Sturm
---
FE Engine Workshop
From http://www.wrljet.com/engines/fe.html
---
Company Review
Dennis Carpenter
---
A Womans View
From The Driving Force
---
Member Profile of the owners of a 1964 Galaxie 500 XL Convertible
By Members Deb & Bob Powell of Billings Montana

Go Back to where you were!
---
This site built by Mark Reynolds using FlexED. Let's build YOU a homepage.