March-April
Galaxie Gazette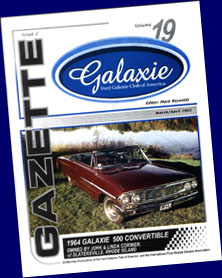 In This
March-April 2002
Issue:
---
Next Year is Our 20 Year Anniversary!
From the Drivers Seat
---
Company Profile - Joe's Rust Emporium
by Mark Reynolds
---
166 Ford Car Identification
by Ford Motor Company
---
Resto-Tips
I have a 1964 Galaxie 500 Fastback...
By Greg Donahue
---
The Little Ones
by Mark Reynolds
---
Members' Galaxie Showcase
Jerry Campbell and Alan Poole
---
Lot's of Tech Tips!
by Club Members
---
Member Profile of the 1964 Ford Galaxie 500 Convertible
owned by John & Linda Cormier from Slatersville, Rhode Island, U.S.A.
---
Starting The Frame
by Bruce Thompson

Go Back to where you were!
---
This site built by Mark Reynolds using FlexED. Let's build YOU a homepage.