May - June
Galaxie Gazette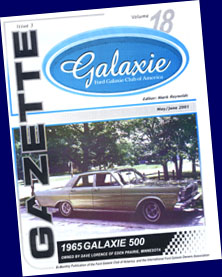 In This
May-June 2001
Issue:
---
Glossy cover at 3000 members? Surprise-surprise!
From the Drivers Seat
---
Review of 1963 & 1964 Productions Figures and Option Totals Booklet
from Greg Donahue
---
The Little Ones
1960 Ohio Highway Patrol Car
by Paul Maddams
---
Resto-Tips
What is the correct wheel size for my 64 Galaxie?
The original size wheel...
By Greg Donahue
---
Giving You Galaxie a New "Heart"
by The Car Car Council
---
Vinly Care
---
S.U.V. or GALAXIE?
by Mark Reynolds
---
Bum Luck
by Amy J. Rynearson
---
Member Profile of the 1965 Galaxie 500
owned by Member Dave Lorence of Eden Prairie, Minnesota U.S.A.

Go Back to where you were!
---
This site built by Mark Reynolds using FlexED. Let's build YOU a homepage.