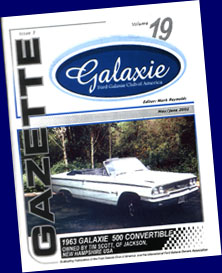 In This
May-June 2002
Issue:
---
2600 Magazines?
From the Drivers Seat
---
Company Profile - McLellans Automotive History
by Mark Reynolds
---
1964 Electric Trunk Lock Release Installation
by Mark Reynolds
---
Resto-Tips
I have been looking for a set of the 15" full wheel covers for my 63 XL 406 Convertible...
By Greg Donahue
---
Tech Tips
by the Members
---
Why No '64 Rear Bumper Yet?
by Bob Johnson
---
Hot 390 - A Little TOO Hot!
by Paul & Jan Hobbs
---
Members' Galaxie Showcase
Ron Caskey
---
Lot's of Tech Tips!
by Club Members
---
Member Profile of the 1963 Ford Galaxie 500 Convertible
owned by Tim Scott from Jackson, New Hampshire, U.S.A.
---
Rare Finds
by George Inangelo
---
Like Father, Like Son
by Randall Dias
---
Keeping The Gal Going...
by Ray Cockrell

Go Back to where you were!
---
This site built by Mark Reynolds using FlexED. Let's build YOU a homepage.