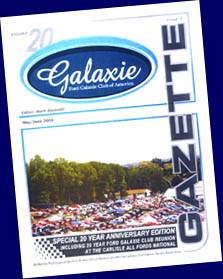 In This
    May-June 2003    
Issue:
---
Special 20 Year Issue
From the Drivers Seat
---
FGCoA Nationals @Carlisle
by Three Rivers
---
From The Dock of Dad's Boat
By Ted McMurray
---
20 Fantastic Years...
by our Members
---
Resto-Tips
I have a 1963 Galaxie 500 2 Door Sedan with a 352 in it and my car needs a frame....what frame will interchage with the frame in my car?
By Greg Donahue
---
Tech Tips
by the Members
---
Our 20th Anniversary Celebration at Carlisle PA 2003
---
The Ongoing Saga...
by Mike Wende

Go Back to where you were!
---
This site built by Mark Reynolds using FlexED. Let's build YOU a homepage.