November-December 1998
Galaxie Gazette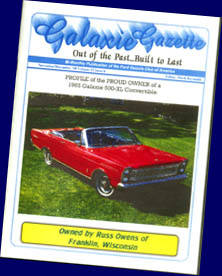 In This Issue:
---
A New Member Service...
From the Drivers Seat
---
Some Galaxie Problem Answers
By Member Bob Warner
---
Resto-Tips
I want to put front and rear seatbelts in my 64 Galaxie, but...By Greg Donahue
---
1969 Information
From Ken Sturm
---
My '64
From the Dock of Dad's Boat
---
FE Engine Overheating Problems & Remedies
By Ted McMurray and Mark Reynolds
---
He Blue It
By John Smith, President of the 7 Litre Registry Chapter
---
On The Numbers -
Matching the Numbers on a Ford Tri-Power Setup
By Member Dub Greene
---
Your First Reaction -
How do you react to a emergency braking situation?
---
Refinishing and Polishing Stainless Steel Trim
By Member Jim McKee
---
What to Look For In A Repair Shop
Don't make the same mistake that I have made!
---
Woman Drivers -
See if you can argue against this view!
From the Tin Lizzie

Go Back to where you were!
---
This site built by Mark Reynolds using FlexED. Let's build YOU a homepage.