November - December
Galaxie Gazette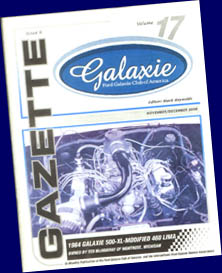 In This
November-December 2000
Issue:
---
Let's Work on Getting More Models Made - More of What is in Store
From the Drivers Seat
---
The Great 3,040 Mile Parts Run
Part III
by Greg Mc Vickers
---
Rating That Galaxie!
by Old Cars Price Guide
---
Resto-Tips
I am restoring the engine compartment of my '64 Galaxie
with a big block and I would like to know what the
correct colors are for the engine compartment...
By Greg Donahue
---
The Little Ones - Upcoming Galaxie Models
by Paul Maddams
---
How To Choose The Right Body Shop
from A.S.E.
---
Desktop Dyno 2000
From Mr. Gasket
---
Remembering 1963
from the WWW
---
"Dad's Boat"
Member Profile of the 1963½ Galaxie 500-XL
owned by Member Ted McMurray of Montrose, Michigan U.S.A.

Go Back to where you were!
---
This site built by Mark Reynolds using FlexED. Let's build YOU a homepage.