November-December
Galaxie Gazette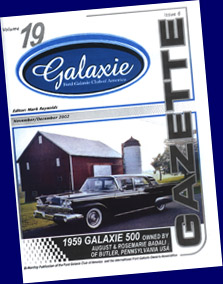 In This
    November-December 2002    
Issue:
---
Another year has come and gone!
From the Drivers Seat
---
Company Profile - Ford Powertrain Applications
by Mark Reynolds
---
Ford Announces 100th Anniversary Plans
from FOMOCO
---
1962-64 Galaxie 500-XL Ford's Performance Daze
by Robert Ackerson
---
Resto-Tips
I have a '64 Galaxie 500 Convertible and I need to know what color...
By Greg Donahue
---
2003 7th Galaxie National - 20 Year Anniversary of the Club
from 3 Rivers
---
Tech Tips
by the Members
---
HOW ABOUT SOME ADS?
by Mark Reynolds
---
Members' Galaxie Showcase
Ken & Louise Sturm from Livonia Michigan
Mike & Leslie Gross from Tucson Arizona
---
Member Profile of the 1959 Ford Galaxie 500
owned by August & Rosemarie Badali of Butler, Pennsylvania, U.S.A.

Go Back to where you were!
---
This site built by Mark Reynolds using FlexED. Let's build YOU a homepage.