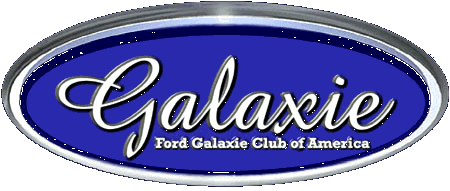 ---
As the Director of the Ford Galaxie Club of America, I want to let all viewers know what the purpose of this club is. The Ford Galaxie Club was started in 1983 when the original founder, Bill Barber, and his wife Pat, realized that there were no clubs representing this great family automobile built by the Ford Motor Company between the years of 1959 and 1974.
Bill asked a few friends if they were interested and that is what launched this club. This began what I hope is to become one of the biggest international car clubs there are.
The Ford Galaxie Club is a association of members dedicated to the restoration, preservation and enjoyment of the Galaxie passenger automobiles built by the Ford Motor Company between the years 1959 thru 1974.
The main goal of the Ford Galaxie Club of America is to unite owners of 1959 - 1974 Galaxies the world over, and to preserve the name Galaxie and its association as one of the first muscle cars of the 60's in perpetuity.
To help promote the growth of
the Ford Galaxie Club of America in its entirety.
Members will receive a membership card, a car show window card and a static cling decal as well as a bi-monthly subscription to the magazine as well as all services currently available, (more to be added all the time) for the annual membership of $30.00, magazine mailed bulk rate. You can add $5.00 and receive 1st class postage. And all members from Canada must pay $35.00 US because they have to be sent 1st class. Overseas is now $50.00 a year payable in US currency for the same subscription. Sorry, overseas postage is close to $4.00 for each issue sent due to its size. The club will keep you posted on car shows, events and Galaxie related items through the magazine or by Self Addressed Stamped Envelopes provided by the member.
Members are encouraged to participate in the club. This is YOUR club, we must grow to survive. Any suggestions and volunteers to the technical committee are always welcome.
As the President of the club, I want to see this club have a large magazine, which I am working towards, currently it is 40 pages. One of the reasons for this site is to put advertisements on from companies that are in the business of providing goods and services to people restoring old Galaxies. Our membership will be able to utilize this facility as will outside viewers. We have realized the vision of a yearly Galaxie Club National show as well as regional events with 7 chapters and more forming all the time. I hope that all of our members will share with me in the same vision.
Thank You!

Director: Ford Galaxie Club of America
---

Drive on over & join our CLUB

E-mail us
---
This site was built by Mark Reynolds using FlexED. Let me build YOU a homepage.