September - October
Galaxie Gazette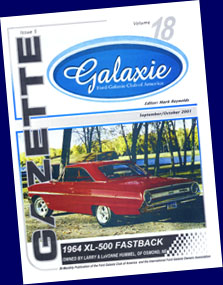 In This
September-October 2001
Issue:
---
The Last National I Will Sponsor Will Be In Eureka Arkansas in 2002! After that, it is on the Chapters backs!
From the Drivers Seat
---
It's A Small World...
by James Kovacs
---
'63 Dashboard Restoration Part 1
by Martin Siemion
---
Company Profile
Concours Parts
---
Resto-Tips
I would like to know when the 427 engine was introduced in the 1963 models...
By Greg Donahue
---
The Little Ones
by Paul Maddams
---
National Highlights
by Mark Reynolds
---
The 390 Performance Years
by Alan Estergomy
---
Member Profile of the 1964 Galaxie 500-XL Fastback
owned by Members Larry & LaVonne Hummel from Osmond, Nebraska, U.S.A.
---
From The Dock of Dad's Boat
by Ted McMurray

Go Back to where you were!
---
This site built by Mark Reynolds using FlexED. Let's build YOU a homepage.