September-October 1999
Galaxie Gazette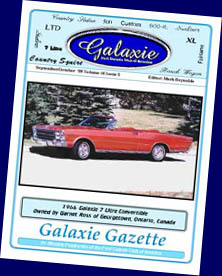 In This
September-October 1999
Issue:
---
Help the club...renew on time!
From the Drivers Seat
---
The Little Ones
1959 Revell "Skips Drivein Series"
---
"New" Parts?
By Arthur Hoyt III
---
Resto-Tips
I have a '63 Galaxie with a heater problem...By Greg Donahue
---
1974 Information
Last of the series from Ken Sturm
---
Y2K Nationals
Information on the 5 day extravaganza for the
September 2000 Club Nationals
---
Release of our year 2000 Calendar
Special thanks to the members who made it!
---
1959: The Beginning of It All
An in depth look at the 1959 Galaxie-Fairlane beginning
---
Why I Love Old Cars
by Shannon Mc Kinney
---
My Son's First Drive
by Dave Kyle
---
Bringing Back Memories
by Steve Bupp
---
Member Profile of the 1966 7 Litre Convertible
owned by Member Garnet Ross of Georgetown, Ontario, Canada

Go Back to where you were!
---
This site built by Mark Reynolds using FlexED. Let's build YOU a homepage.