November - December
Galaxie Gazette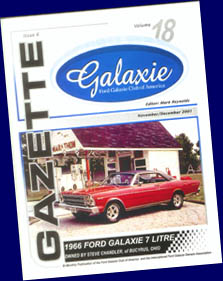 In This
November-December 2001
Issue:
---
Dues went up after 4 years $5
From the Drivers Seat
---
Company Profile - Spintech Mufflers
by Mark Reynolds
---
'63 Dashboard Restoration Part 2
by Martin Siemion
---
Galaxie Land Southeast Regional
from Rick Cabaniss
---
Resto-Tips
I just purchased a '64 Galaxie and everything is great EXCEPT...
By Greg Donahue
---
The Little Ones
by Paul Maddams
---
Automobile "Values"
by Mark Reynolds
---
Lot's of Tech Tips!
by Club Members
---
Member Profile of the 1966 7 Litre
owned by Member Steve Chandler from Bucyrus, Ohio, U.S.A.
---
From The Dock of Dad's Boat
by Ted McMurray

Go Back to where you were!
---
This site built by Mark Reynolds using FlexED. Let's build YOU a homepage.