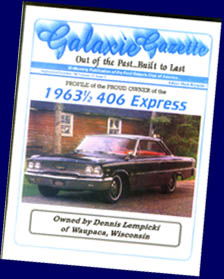 September-October 1998
Galaxie Gazette -
Our first color issue!
In This Issue:
---
Buyer Beware!
From the Drivers Seat
---
The Next Generation
An Article on Bringing in our Children to the Hobby by member Jeff Kanter
---
Resto-Tips
You have replaced everything in your brake system except...By Greg Donahue
---
1968 Information
From Ken Sturm
---
Drive Shaft Balancing
From the Dock of Dad's Boat
---
Product Review
Are you missing this part on your '63 or '64?
---
Ignition Upgrade
An alternative to points.
---
Galaxie National
Come share our memories.
---
Camas Washington NW Regional
Better late than never!
---
Convertible Top R & R
Need a top replacement. This will tell you how to do it yourself!
---
Finding a Parts Man
By "Wild Bill" Rowe, Jr.

Go Back to where you were!
---
This site built by Mark Reynolds using FlexED. Let's build YOU a homepage.